Allergies and the Work Place
Allergies bother millions of people every year, causing many types of suffering. Symptoms can range from itchy, watery eyes and runny noses, to potentially more serious ailments that can affect people's ability to work. For this reason, business owners and managers should consider methods to help lessen the likelihood that the office will contribute to their allergy issues. Maintaining a clean office can aid in this endeavor and here are some things to consider: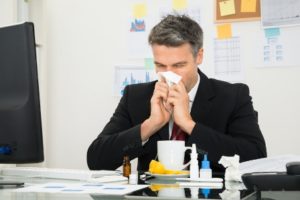 Understand the value of professional grade cleaning. Maintaining the cleanliness of the areas in which employees spend the most time is a very important aspect of fighting the spread of allergens. A professional grade cleaning of high traffic and work areas may significantly improve employee's day to day levels of comfort.
Consider green cleaning. In some situations, chemical components of cleaning products can trigger allergic reactions, especially for eyes and nostrils. Consider using a cleaning service that uses environmentally-friendly products.
Utilize technology. By using a cleaning service that utilizes more advanced cleaning equipment, the quality of your cleaning can improve significantly. For example, high filtration vacuums have more cleaning power than upright vacuums and can improve indoor air quality.
---
About the Vanguard Cleaning Systems® Brand
Founded in 1984, the Vanguard Cleaning Systems® organization is built upon over 2,500 independently owned and operated franchised commercial cleaning businesses, which are licensed and supported by an Area Franchise network of more than 50 independent regional offices throughout North America. Vanguard® franchised commercial cleaning businesses service over 15,000 businesses, healthcare companies, educational facilities, and non-profit organizations.
Related Posts:
Tips For A Healthy Office
Get your office started on an office recycling program. Help the environment, and the community in which your business operates, by implementing these six simple recycling tips.
Tips For A Healthy Office
A quick office cleaning guide to help aid in a healthy and productive work environment.